One thing I like about being Catholic is the liturgical year. I enjoy the ritual, the sense of marking time, and the way I can find something awesome to celebrate in every month. Traditions have always been important to me, from how we decorate the Christmas tree as a family to getting ice cream together on the first spring day it hits seventy degrees. These little traditions add flavor to everyday life, and becoming Catholic opened the door for me to celebrate all sorts of new things.
Each month, I am planning to do a blog post with a few of my favorite feasts, and some suggestions of how to celebrate the day. I know other Catholic bloggers have cornered the market on this already (and fantastically so), but I thought I'd chip in a few ideas for others looking to add a bit of tradition to their lives.
For November, Pope Francis's intention is that we may be open to personal encounter and dialogue with all, even those whose convictions differ from our own.
November 1: All Saints (Solemnity)
All the Saints. Fra Angelico
All Saints Day celebrates basically everyone - canonized or beatified, and all those who are in heaven. I love this idea. It's a huge party where you can celebrate so many fine people, from saints you know to others with whom you may not be as familiar. Some of those in heaven may be your own relatives, and you don't even know it. How cool is that? I like the idea of my great-grandmother or grandfather chilling out and getting to do all sorts of saintly things. If they were up there praying for me, I'm sure they were like "FINALLY!" when I went through Easter Vigil in 2013. So this is a day where I can give back to them a little bit, too.
First thing to do? Go to mass. That's the number one, most important thing to do today if you're Catholic. You don't need the fancy foods, or crafts, or any other fun thing to celebrate - those are all extras. You
do
, however, have to go to mass. It's
required
!
The traditional thing to do is pray the
Litany of the Saints
. This is a lovely prayer which lists many saints, and calls upon each of them to pray for us. By the end of the list, I'm always wanting to add in extra names.
Michael Jackson, pray for us.
William Shakespeare, pray for us.
Ethel Merman, pray for us.
I always have to fight a blasphemous giggle as I think about this. But you don't really know - anyone could be a saint. And maybe I'm just trying to excuse that inappropriate giggle I'm stifling during mass, but I'd like to think that unbidden thought is God reminding me that anyone can become a saint, no matter what
we
think of them.
Anyway, that is a tangent.
There are probably a lot of Irish Halloween traditions out there, but the only one I know is colcannon. Colcannon is a delicious mashed potato with cabbage dish. The tradition is to serve the colcannon with a ring and a thimble hidden in it. Sometimes there would also be coins hidden as well. Stories say the girl who found the thimble would marry the man who found the ring. Blarney, I tell you!
At the beginning of November when the wind is blustery and the rain is cold, having something warm and hearty is a treat. I like to serve colcannon with some good Irish bangers, or nice beer-braised roast. Sadly, I don't have my own colcannon recipe - I tend to just use what I have on hand, cabbage or kale (both are great together), onions or leeks, milk or cream, bacon or pancetta, etc. etc. It's basically loaded mashed potatoes, so no matter what you add, it will taste great.
Colcannon
by Simply Recipes
Colcannon Potatoes
by Taste of Home
Classic Colcannon
by Saveur
Baked Colcannon
by Martha Stewart
Vegan Colcannon
by Vegan Yum Yum
November 2: All Souls (Feast)
All Souls Day is the counterpoint to All Saints Day. The previous day, we celebrate those who are in heaven, and so it only makes sense the following day to pray for those who haven't yet reached heaven. Again, what I love is that there is no assumption here. Those of us on Earth have no idea, aside from the identified saints, who is in heaven. Rather than be arrogant and assume, we pray for all - we've got
allllll
our bases covered.
I have to admit, when I think of All Souls Day, I think of Ursula singing "Poor Unfortunate Souls" in
The Little Mermaid
.
A nice thing to do is pray for your deceased family. If you can, visit the cemetery where they are buried and tidy up the graves. Or, if that isn't possible, set up a nice display at home with pictures and flowers. Take the time to remember those who you love that have passed on. This is a big practice in Mexican culture, when they celebrate
Dia de los Muertos
on this day - the day of the dead. This is something many cultures marked at different times of the year, but the emphasis was always on remembering our loved ones that have passed on.
You don't have to be elaborate like these altars - a bouquet of flowers or some other decoration is enough. Be careful if you're going to use candles! Maybe I'm a worrywart, but I always look at these elaborate displays and see everything as flammable. So, please be careful and don't make me feel guilty for inspiring you to do something that ended up burning your house down.
November 13: St. Frances Xavier Cabrini (Memorial)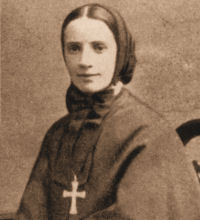 Source: catholicculture.org
St. Frances Cabrini has always intrigued me because of an encounter I had about ten years ago - I met a woman who was named Cabrini, and when I commented on her unusual name, she said she had been named after a saint. The name stuck with me, and when I began looking into Catholicism seriously, she was the first saint I looked up. If I'm being superstitious, I'd think that was meant to happen - I'm always impressed by people who
do
something, rather than just talk about how religious they are.
Francesca Cabrini was born in Italy, and although she was the thirteenth child, she received a good education, leaving school at eighteen. She had always been fascinated by missionary work, and began by visiting the poor and sick, as well as teaching school, to assist in her parish. She eventually established the Missionary Sisters of the Sacred Heart. After meeting with Pope Leo XIII and hearing about the horrible conditions many Italian immigrants faced in America, she decided to travel to America to continue her missionary work.
Mother Cabrini landed in New York in 1899, and immediately got down to business. She established schools, kindergartens, clinics, orphanages, foundling homes, and hospitals.
At her death, over five thousand children were receiving care in her charitable institutions...The saint showed such energy and enterprise that everyone marveled. She crossed the Atlantic twenty-five times to visit the various houses and institutions. In 1909, she adopted the United States as her country and became a citizen. After thirty-seven years of unflagging labor and heroic charity, she died alone in a chair in Columbus Hospital at Chicago, Illinois, while making dolls for orphans in preparation for a Christmas party. - via Catholic Culture
If you're looking to have a little feast at home, a heart-shaped cake or cookies would be a lovely symbol of her order (Sacred Heart), and that could easily accompany an Italian dinner. However, for me, the best way to celebrate the day is to
do something
. Volunteer at a homeless shelter, soup kitchen, hospital, or school. Try to find a way to do something, even if it's small, to give back to others. Given the refugee crisis we are currently seeing, there are
ample opportunities to donate money
if you can't donate time - even five dollars will do. There are so many ways you can help.
Please choose one
.
November 21: Presentation of Mary (Memorial)
Source: 4enoch.org
Presentation of Mary at the Temple. Paolo Uccello, 1435.
There are a few feasts for Mary in the liturgical calendar - I find the Presentation of Mary the most intriguing. The Presentation of Mary is not something covered in the Bible; however, it is referenced in apocryphal works, such as the
Protoevangel of St. James
. Tradition has it that Mary's mother, after discovering she was pregnant with the child she had long prayed for, vowed her child to the Lord. As such, Mary was dedicated to the Temple at a young age, and was raised in a a very spiritual and devout environment. This was originally introduced to the Roman rite from Eastern tradition, was celebrated for a time, dropped, and then reintroduced in the 1500s. When I hear more about traditions celebrated in the Eastern rite, or information contained in apocryphal texts, I always want to know
more
. What was Mary's life
really
like? There are always more questions than answers.
The simplest way to celebrate this day is to say the
Rosary
.
Some of you may know this already, but I came to being Catholic through the Rosary. I was going through a difficult time, dug out a Rosary I had lying in a drawer for years that was a gift I had never gotten around to giving, and just started praying. I felt better, so I kept at it. The more I prayed, the more I believed. I went from being practically an atheist dabbling in pagan bits and pieces to believing. It was illogical and I couldn't explain it. But since it was Mary that led me to the Church, her feasts hold a special place in my heart, even if we don't' know much about them.
Other ways to celebrate could be bouquets of flowers, hanging a pretty picture of Mary somewhere in the house, singing or listening to
Ave Maria
or
Salve Regina
, or read
The Life of the Blessed Virgin Mary
by Bl. Anne Catherine Emmerich. For a more light-hearted celebration, wear something blue or bake cookies in the shapes of stars, hearts, or crowns, or whip up some blueberry muffins or blueberry lemonade. You could also get fancy and break out the
bacon roses
and make a
meatloaf "cake"
in a heart-shaped pan if you're a savory fan, rather than sweet. Stick a big knife in the side, and you've practically got the Immaculate Heart of Mary right there.
November 29: First Sunday of Advent
Source: Instructables
Advent is one of my favorite times of the year. The first thing I did to add in some Catholic traditions to my life was purchase an
advent wreath
. However, you could just as easily
make one
(pictured above). Each corresponding candle is lit each Sunday leading up to Christmas. The first Sunday, light the first purple candle, which symbolizes hope, and say a few
prayers
.
Advent is somewhat like Lent - it is a time meant to be thoughtful, joyous, and expectant. Rather than the focus on
buy, buy, buy
which seems to invade Christmas these days, it's supposed to be a time of anticipation and preparation. Traditionally, Catholics celebrate Christmas all the way until Epiphany, so Advent is really a time to prepare yourself spiritually before celebrating Christ's birth in a big way.
That said, I still put up my Christmas tree. I love looking at it, and I find it enhances my excitement and anticipation. I've been toying with the idea of creating an Advent-themed tree this year, all purples and pinks, so expect forthcoming pictures if my idea turns out well.
Another thing I like to do is put out a Nativity scene, listen to Advent music, and try to find ways to give back and help others, like soup kitchens and toy drives. I'm blessed to be able to celebrate Christmas, and so I like to find a way to help others do the same.
I have a lot more Advent traditions and celebrations to cover, but I will save those for the December post. What are some of your favorite ways to celebrate the season?