Some very, very quick takes this week. The abridged version, if you will.
~1~
Last night was my last RCIA class.
We had our last dismissal last Sunday. There's only a week to go until I get that Grand Slam of sacraments. If you told me last year I'd be doing this, I wouldn't have believed you.
via coolchaser.com
~2~
I have had the most intense craving for watermelon this week.
I am desperate for a good melon, which is driving me crazy, as I know we are months away from decent produce at this point. I keep telling myself, there are plenty of lovely new cucumbers, peas, and asparagus, and to just make myself some pasta primavera, but no - I want the watermelon.
In August, I want pumpkin. Clearly, although my brain is on board with eating locally, my palate has other plans.
~3~
I am loving Dancing with the Stars this season.
Yes, even that switch up I was bound and determined to hate! Don't get my wrong, I always watch the show (it's one of my guilty pleasures), but there's something about the stars this season that have made the show extra enjoyable. Everyone is so nice and talented and a joy to watch, I don't even feel guilty for watching a bit of tv.
Plus, I'm always on the edge of my seat to see what Meryl and Maks do next. I really want them to win!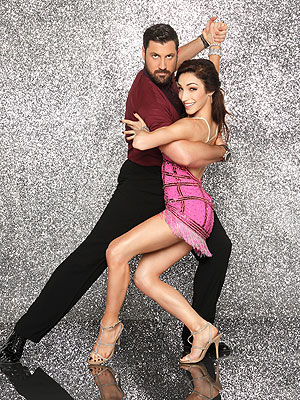 source: people.com
~4~
Last weekend, I went to Gallery Hop with some friends.
We had a great time - the weather was perfect for a stroll through the Short North. And, I was happy to discover, the Columbus Running Company store was having its soft opening. The Boyfriend picked up a pair of running shoes, and we walked away (no pun intended!) with free race entries to the Columbus 10K in June. I'm really looking forward to it. It almost sounds like an easy race, compared to this half marathon I'm dreading.
~5~
Does anyone remember Book It?
Remember how you would get those stickers for reading books, and after a certain amount, would get a free personal pan pizza from Pizza Hut? Do they even do that any more?
I had a personal pan pizza for lunch today, and I was immediately taken back to my childhood by the greasy, and admittedly terrible for you, buttery crust. It was always a treat to go to the Pizza Hut near me when I was kid and have lunch. It was an eat-in restaurant, and I remember a pretty decent salad bar. Whatever happened to that, too?
Anyway, that was a bit of nostalgia for the day.
~6~
Speaking of nostalgia, I'm super excited about Girl Meets World.
I am not, however, much of a fan of Ben Savage's
alleged nose job
. You were such a cutie, Ben!
~7~
I am positively giddy over this weekend's forecast.
Seventies? Sunny? I feel like a kid on Christmas morning.
Of course, that snow that's being predicted on Tuesday will snap us out of Spring Fever
tout de suite
. Some things just don't seem fair.
Linking this post up with others doing 7 Quick Takes at Conversion Diary
.