I had a fabulous Friday night. Why?
I got to go to the circus! Back in high school, I somehow ended up with a VHS of Cirque du Soleil's show
Dralion
, and I loved it. I watched that video over and over. While I enjoyed going to Barnum and Bailey when I was a child, Cirque du Soleil blew that out of the water. Last fall, when The Boyfriend took me to see
Quidam
, I was hooked. I knew now that every time Cirque du Soleil hit Columbus, I had to be there. When I heard that not only was
Totem
coming, but that it would be under "le grand chapiteau" (the big, custom tent), I knew I had to go. Luckily, I have a very nice boyfriend who enjoys going to these things as well.
Totem was
amazing
. While I really enjoyed Quidam (and laughed so hard I cried at the clowns), Totem was head and shoulders above Quidam for me.Unlike the tour at the arena, under the big tent, every seat is so close to the stage, and everything is part of the show, with lights reflecting off the ceilings and speakers positioned to surround you with sound. Totem felt much more personal. In addition, Quidam was a bit odd - it was a dreamscape type show, and I've never been much for odd or whimsical things. Even as a child, I was very much no thank you to Alice in Wonderland and The Wizard of Oz. So, Totem's evolution/nature themed show was much better with its frogs and apes, rather than Quidam's large headless men.
The acts themselves were phenomenal. The music, set, lighting, and stunning costumes are the icing on the cake that is the performances. There was Chinese foot juggling, funny rings aerialists, and romantic trapeze and skate artists. But the highlight for me (and The Boyfriend) was the closing act of the first half - a fusion of unicycling and juggling that had me exclaiming "Wow!" out loud more than once.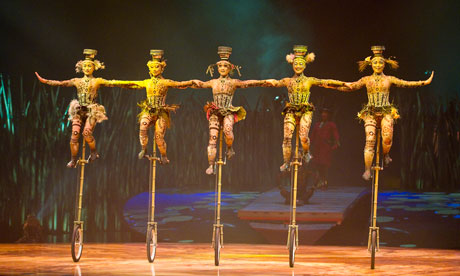 Somehow, these women managed to flip bowls with their feet and catch them with their heads while cycling together
in unison
. It was truly mind blowing. I can only imagine how many bones I would have broken, trying to replicate these stunts as a kid, had I been to this circus instead. At the end of the show, I felt joyful. Cirque du Soleil is a magical experience that can leave adults feeling like children all over again.